COOL Chips is an International Symposium initiated in 1998 to present advancement of low-power and high-speed chips. The symposium covers leading-edge technologies in all areas of microprocessors and their applications. The COOL Chips XVIII is to be held on April 13-15, 2015.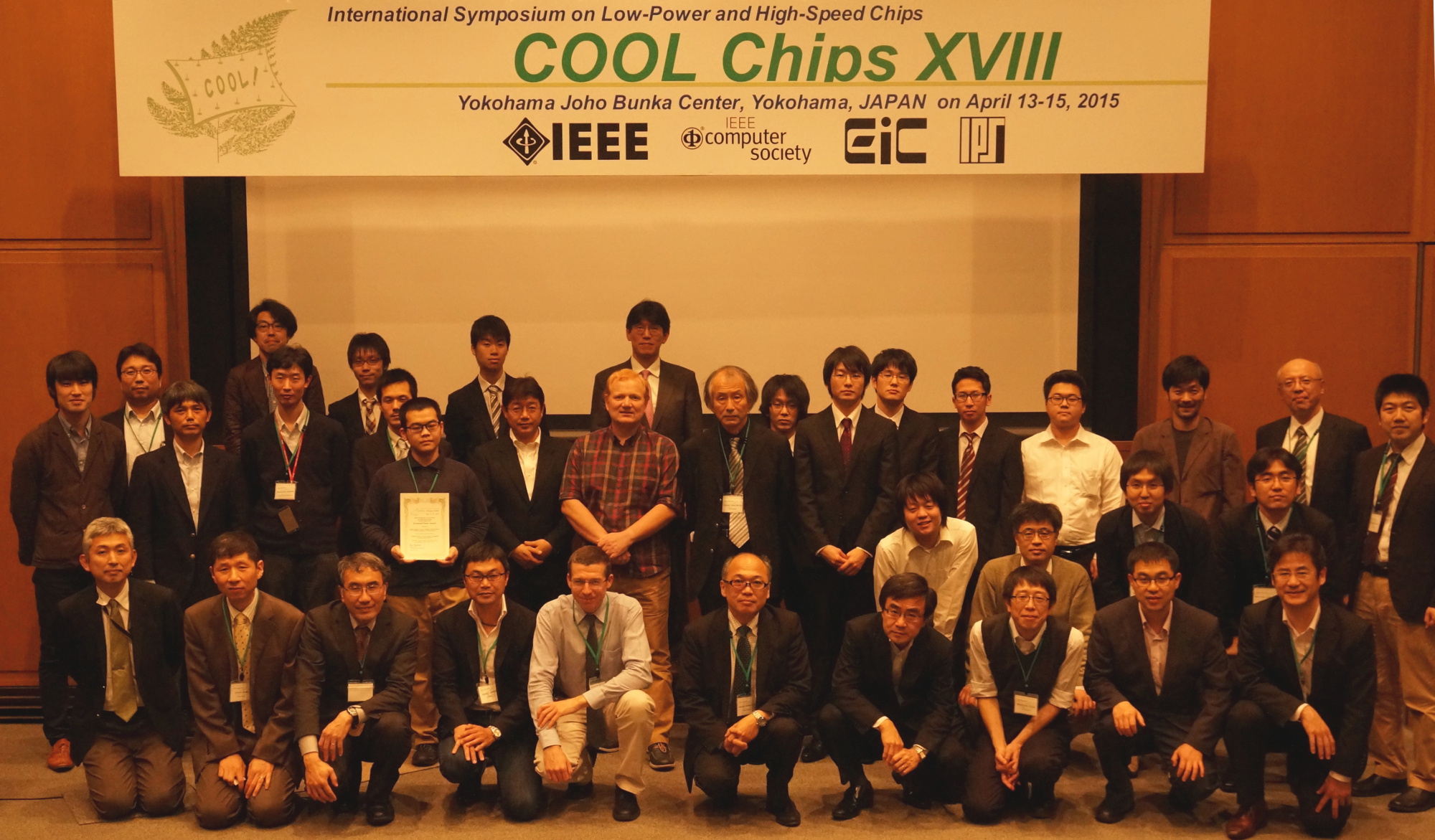 COOLChips XVIII was successfully held during April 13-15, 2015.
Award Winners @ COOLChips XVIII
" Ultra Low Power Reconfigurable Accelerator CMA-SOTB-2 "
by Koichiro Masuyama, Yu Fujita, Hayate Okuhara, Hideharu Amano

Featured Poster Award

"Stubborn Cache: A Novel Strategy for Repeating Thrashing Access Patterns" by Hayato Nomura, Takuma Nakajima, Masato Yoshimi, Tsutomu Yoshinaga, Hidetsugu Irie
"A Parameterized Many Core Simulator for Design Space Exploration" by Shohei Takeuchi, Thi Hong Tran, Shinya Takamaeda, Yasuhiko Nakashima
Please see more pictures for Award ceremony page.

Updates
Apr. 15, 2015: Pictures of COOL Chips XVIII has been uploaded in top page and awarding page.
Apr. 13, 2015: Final Program has been uploaded in Advance Program.
Apr. 10, 2015: On-line registration has been closed. Please make on-site registration during the COOL Chips XIII. For more detail, please check here.
Apr. 8, 2015: Advance Program (In pdf version, Poster Presentation information is included) has been updated.
Mar. 17, 2015: Extended Poster Abstract Submission deadline and Poster Acceptance Notified date has been extended to

Mar.23

and

Mar.25, 2015

.
Mar. 17. 2015: Hotel Information has been updated.
Mar. 16, 2015: Online registration is open. Early registration will end on March 31, 2015 (JST).
Mar. 16, 2015: Time table and program for the conference (Tentative) has been announced in Advance Program.
Mar. 11, 2015: Call for Participation has been updated.
Feb. 26 2015: Call for Posters has been updated.
Feb. 3, 2015: Extended Abstract Submission deadline has been extended to

Feb. 10, 2015

.
Jan. 27, 2015: Registration Information has been updated.
Jan. 7, 2015: Keynote & Invited Presentations have been updated.
Dec. 17, 2014: Author's kit is uploaded and Call for Participation is open.
Aug. 10, 2014: The COOL Chips XVIII's website opened.

Important Dates
Feb. 10, 2015

Extended Abstract Submission
Mar. 11, 2015 Acceptance Notified
Mar. 27, 2015 Final Manuscript Submission

Mar. 23, 2015

Extended Poster Abstract Submission

Mar. 25, 2015

Poster Acceptance Notified