Yokohama Joho Bunka Center (Yokohama Media & Communications Center),
Yokohama, Japan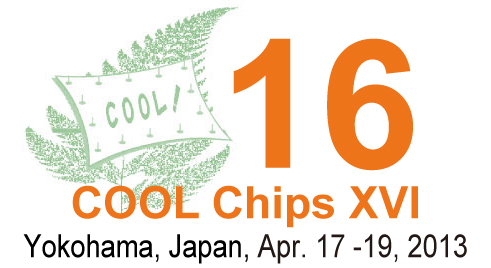 Sister Conferences


General Information
COOL Chips is an International Symposium initiated in 1998 to present advancement of low-power and high-speed chips. The symposium covers leading-edge technologies in all areas of microprocessors and their applications. The COOL Chips XVI is to be held in Yokohama on April 17-19, 2013.
Awards
Best Poster Award

"Performance and Energy Optimization of a Heterogeneous Multi-Core Processor with Inductive Coupling Links" by Yusuke Koizumi, Noriyuki Miura, Yasuhiro Take, Hiroki Matsutani, Tadahiro Kuroda, Hideharu Amano, Ryuichi Sakamoto, Mitaro Namiki, Kimiyoshi Usami, Masaaki Kondo and Hiroshi Nakamura




Best Feature Award

"A TCP/IP Hardware Stack Directly Connectable to WEB Application Circuit" by Kotoko Fujita, Nadav Bergstein, Hakaru Tamukoh and Masatoshi Sekine
"Parallel Processing of Multimedia Applications on TILEPro64" by Yohei Kishimoto, Hiroki Mikami, Keiichi Nakano, Akihiro Hayashi, Keiji Kimura and Hironori Kasahara
News
On IEEE MICRO Nov.-Dec. 2012

We have selected and shepherded two excellent papers from COOL Chips XV and these have published on

IEEE MICRO Nov.-Dec. 2012

(link to

Guest Editors' Introduction

).

"Low-Power, Real-Time Object-Recognition Processors for Mobile Vision Systems". Jinwook Oh, Gyeonghoon Kim, Injoon Hong, Junyoung Park, Seungjin Lee, Joo-Young Kim, Jeong-Ho Woo, and Hoi-Jun Yoo

"The Dependable Responsive Multithreaded Processor for Distributed Real-Time Systems". Kazutoshi Suito, Rikuhei Ueda, Kei Fujii, Takuma Kogo, Hiroki Matsutani, and Nobuyuki Yamasaki

Updates
April 16, 2013: We have closed online registration. Please make an on-site registration at the registration desk during COOL Chips XVI if you have not registered yet.
April 10, 2013: Final program has been uploaded.
March 12, 2013: Conference time table and program have been uploaded.
March 11, 2013: Registration site now is open, early registration will end April 3 (JST).
March 11, 2013: Information about Best Poster Award and Hotel Information have been updated.
March 1, 2013: Advanced program and Call for Participation have been updated.
February 19, 2013: Call for Posters has been updated on Call for Contribution.
February 5, 2013: Extended Abstract Submission deadline has been extended to Feb. 12.
January 22, 2013: A list speakers of Keynote/Invited Presentations and Special Sessions and their titles and abstracts have been updated.
January 22, 2013: Registration information has been updated.
January 7, 2013: Author's kit and Travel information have been updated.
October 9, 2012: Call for Contributions and PC member list have been updated.
August 23, 2012: COOL Chips XVI Website opened.
Important Dates
February 5, 2013: Extended Abstract Submission
February 12 , 2013: Extended Abstract Submission
March 11, 2013: Acceptance Notified
March 18, 2013: Poster Abstract Submission
March 26, 2013: Poster Acceptance Notified

Sponsored by the Technical Committees on Microprocessors and Microcomputers and Computer Architecture of the IEEE Computer Society. In cooperation with the IEICE Electronics Society and IPSJ.