COOL Chips is an International Symposium initiated in 1998 to present advancement of low-power and high-speed chips.  The symposium covers leading-edge technologies in all areas of microprocessors and their applications.  The COOL Chips XIX is to be held on April 20-22, 2016.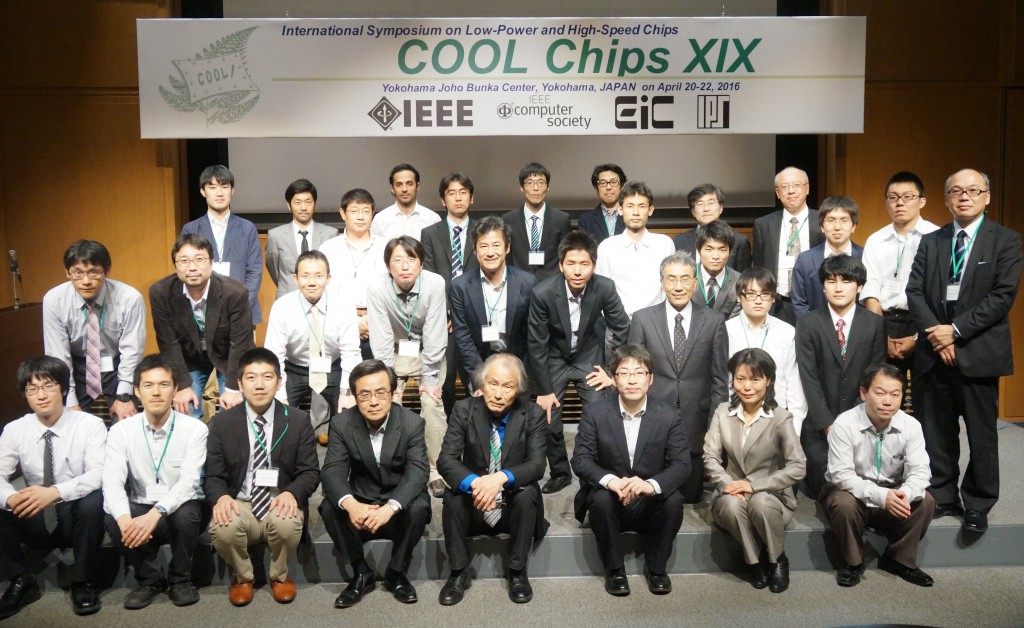 COOLChips XIX was successfully held during April 20-22, 2016.
Award Winners @ COOLChips XIX
" Performance and Power Evaluation of FPGA-based Tsunami Simulator using
Floating-Point DSPs " by Kohei Nagasu, Kentaro Sano, Fumiya Kono, and Naohito Nakasato
Featured Poster Award

" Audio Down-Mixing Hardware Based on Sound-tracing " by Dukki Hong, Hyuck-Joo Kwon, Juwon Yun, and Woo-Chan Park
" A 20uA/MHz at 200MHz Microcontroller with Low Power Memory Access
Scheme for Small Sensing Nodes " by Masami Nakajima and Ichiro Naka
Please see more pictures for Award ceremony page.
Updates
Apr 17, 2016: On-line registration has been closed. Please make on-site registration during the COOL Chips XIX. For more detail, please check Registration page.
Apr 15, 2016: Time table of April 22, Friday has been changed. Please check at Advance Program page.
Mar 29, 2016: Advance Program is now open. Please check Advance Program page.
Mar 21, 2016: Poster Abstract Submission deadline has been extended to

Mar. 28, 2016

.
Mar 18, 2016: We have updated information about hotels & reservations at Travel information page.
Mar 15, 2016: Call for Participation and its PDF version have been updated at Call for Participation.
Mar 14, 2016: Online registration is now open. Please check Registration page.
Feb 9, 2016: Information of keynote, invited, special session presentations, and PDF version of Call for Participation have been updated at Call for Participation.
Feb 3, 2016: Extended Abstract Submission deadline has been extended to

Feb. 15, 2016

.
Jan 17, 2016: Registration information has been uploaded at Registration.
Jan 12, 2016: Submission page is now open, and Call for Posters has been uploaded. Please check Call for Contribution page.
Aug 21, 2015: Web site opened.

Important Dates

February 15

, 2016 Extended Abstract Submission
March 15, 2016 Acceptance Notified
April 1, 2016 Final Manuscript Submission

March 28, 2016

, Poster Abstract Submission
March 31, 2016 Poster Acceptance Notified